Let Sun Valley Solar Solutions handle your solar panel removal and reinstallation
Modern solar panels are designed to operate at peak efficiency for decades, but a lot can happen in 20+ years. Sometimes, homeowner's find it necessary to have their solar panels removed and reinstalled. Maybe your roof requires a minor repair, or you're moving and want to take your panels to your new home.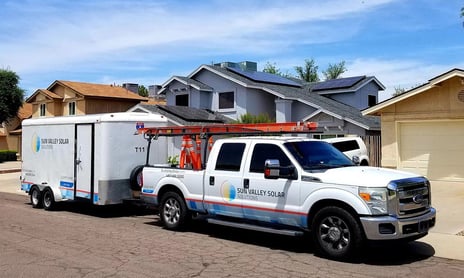 Whatever your reasons, removing and reinstalling solar panels is delicate. To avoid breakage or incorrect re-installations that can be negatively impact system performance or cause a fire hazard, it's always best to have a qualified solar installer manage the job.
At Sun Valley Solar Solutions, our solar panel removal jobs are just as outstanding as our original installations. We follow strict safety procedures designed to protect your investment and ensure system performance. Regardless of whether we installed your solar system originally, when you choose us, you can be confident that your panels are in good hands.
Our Solar Removal and Reinstallation Process
Solar arrays contain delicate circuits, as well as hundreds of electrical connections that can be easily damaged if handled improperly. Panels must be stored in a safe place when they're not on your roof to avoid damage. Sun Valley Solar Solutions handles all of these technical aspects for you. Our process is extremely thorough and designed to protect your property and panels while ensuring that your system works exactly as designed, or better, when it's time to switch it back on.
1. Pre-Removal Site Visit
Most of our removal and reinstallation jobs start with a comprehensive site visit. Our designers will use this information to create a complete site plan for your solar removal and reinstallation project. This plan will be shared with you prior to project execution and serve as the road-map for our installation crews throughout the project.
2. Removal Scheduling
Our service department will work directly with you and your roofer (if applicable) to coordinate all removal and reinstallation dates.
3. Storage
Once we have removed all panels and racking, we will safely bundle your panels and store them at your property in a pre-determined safe location.
4. Installation Scheduling
Our service department will coordinate the nearest installation date that best aligns with your schedule.
5. Reinstallation and Final Inspection
Your solar energy system will be reinstalled with clean panels, new hardware, including racking and standoffs, and will come with a 2-year workmanship warranty. To conclude our installation process, we will conduct a final onsite quality audit to ensure the system is working properly.
If you would like Sun Valley Solar Solutions to provide a free estimate for your solar panel removal and reinstallation project, contact us directly at 480-689-5050 or complete the form below.