Our People Rock!
People who love where they work almost always attribute that sentiment to the same thing: "My coworkers!" This holds at Sun Valley Solar Solutions as well. We have all the perks of a large, growing company with the family feel of a smaller one. We love working together and are united by an unwavering commitment to a cleaner and more sustainable energy future.
As we continue to grow, we're looking for people who share our dedication to teamwork, quality results, and ongoing professional development. We also want candidates who believe in the importance of leaving a clean and healthy Earth to future generations. If these things resonate with you, keep reading.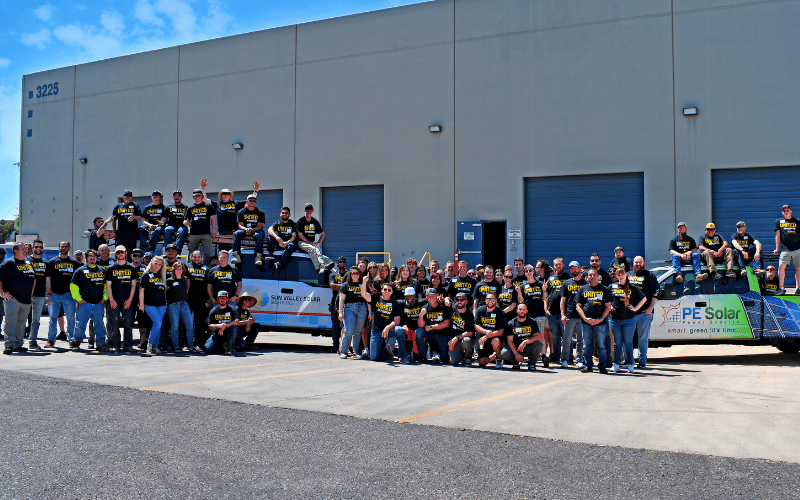 Our Vision:
To change the world by engineering and building the future of energy.
Our Mission:
We combine innovation, quality, and cutting-edge solutions with engaged employees to drive the clean energy revolution. Leading by example, we hope to inspire others to change the world.
Everyone is Welcome:
In our mission, everyone is welcome, regardless of race, gender, age, sexual orientation, identity, faith, or experience. Diversity and inclusion drive how we staff our company, cultivate leaders, choose to give back, and ultimately create a welcoming culture for all. The fight for a cleaner and more sustainable energy future is global, with a diverse and multicultural following reflecting its reach and importance. We want to reflect that diversity inside our walls.
Company Culture - Who We Are
Transparency and Autonomy:
Our owners believe in sharing information, whether it's about the company or changes in the solar industry. They want employees who feel empowered to make decisions using our core values as their guide and are engaged with their professional growth and ongoing company improvements.
Commitment to Training & Development:
Communication is key, and we follow a regular quarterly "check-in" process designed to encourage honest 2-way feedback between employees and managers. We invest in our people and offer numerous programs for ongoing development – technical and soft skills training. When it comes time to move up, the opportunity for advancement at Sun Valley Solar Solutions is very high. Most promotions happen from within. We are a family united by a cause, and we prefer to invest in those who believe in our mission.
Can you help us change the world?
Are you naturally innovative, a free thinker, or a trailblazer? Do you prefer to work with like-minded people who care about each other and are passionate about delivering quality customer service? Are you looking at mistakes as a learning opportunity and actively sharing what you've learned with others? Most importantly, are you driven personally and want the entire team and company to succeed? Let's face it: celebrating success as a team is much more fun than celebrating alone.
Who we do not want:
If this is about earning a paycheck for you, we're probably not a good fit. Our people care way too much about the importance of this work to tolerate that mindset. Or, if you prefer to work alone and feel that others get in your way, our team-focused atmosphere may be uncomfortable for you.
Are You Looking For Opportunity?
Core Values - What Drives Our Decisions
Perks & Benefits - The Fun Stuff
Where Great People Make a Great Company