Solar Incentives For Homeowners
Save Money With Federal and State Solar Incentives
Solar Incentives At A Glance
Incentives for homeowners to switch to solar have historically been offered at the federal, state, and local Arizona utility levels.
Federal Investment Tax Credit (ITC): 30% through 2033
State of Arizona Tax Credit: $1,000
Utility Rebate: Varies by provider and subject to change without notice
30% Solar Investment Tax Credit (ITC)
When you purchase and install a solar electric system on your home, one of the biggest incentives you can take advantage of is the federal solar investment tax credit (ITC), where you can take a tax credit off your personal income tax return for 30% of the solar system cost (with no cap). This can be taken all in one year or over five years.
Extended Tax Incentives
Through the Inflation Reduction Act signed into law on August 16, 2022, the 30% solar tax credit that ended in 2021 was reinstated for all residential solar installations through 2033. This higher 30% rate is also retroactive to 2022 solar installations previously subject to the 26% rate. There has never been a better time to go solar and help create a cleaner, more sustainable energy future for generations. If you'd like to start your solar journey and claim the newly reinstated 30% solar tax credit, click the button below for a free, no-obligation solar consultation.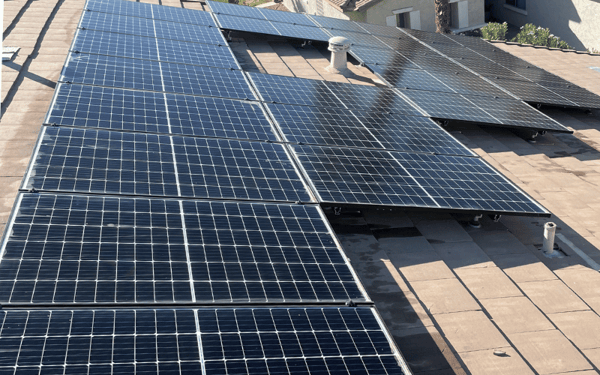 $1,000 Arizona Solar Tax Credit
At the state level in Arizona, there is no sales tax charged, and you can receive a state income tax credit of up to $1,000 for a solar purchase. Like the federal ITC, to qualify for the Arizona solar tax incentive, your system must be installed and commissioned before the end of the tax year you wish to file for.
Purchase vs. the Solar Lease
If you're a retiree looking to keep your tax liability low, then leasing a system is likely the best option. However, if you're looking to take advantage of tax breaks and have complete ownership of your system, then making a purchase is the likely solution. We can help you explore all financing options and help you get started with little to no money out of pocket.
Where to Find Solar Incentives
The N.C. Clean Energy Technology Center, funded by the U.S. Department of Energy at N.C. State University has created one of the most comprehensive systems in the country to search and learn about information on incentives and policies that support renewables and energy efficiency. This system is called DSIRE©, and it allows information to be easily filtered by state. Information on this site is constantly updated, making it straightforward for those applying for incentives, as the current requirements are listed.
Solar systems are a great addition for Arizona homeowners as the benefits likely outweigh the costs. Solar power reduces cost, encourages and supports green living in your community, and enhances your overall lifestyle. Be sure to speak with a residential solar system expert to learn more about the solar incentives available to you.